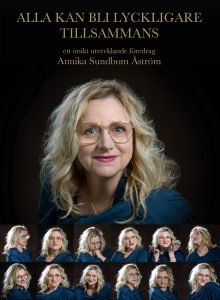 23 May 18.30 is it finally time for the premiere of this year's most loving, developing and unique talk about how we create community: "Alla kan bli lyckligare tillsammans"!
–"There is almost no other time that it is as important as now that we take responsibly for creating community. This is what will allow us to save this planet."

Annika Sundbom Åström
If Swedish medical doctor Hans Rosling in his work with global statistics enlightened us about how far we have come in our human development, Swedish Leadership Developer Annika Sundbom Åström takes the next step and develops us in our convictions so that we can create more community and effectively cooperate for long-term, global development.
Welcome to a developing evening with lots of love, fun and insights!
Read more about the talk here & buy your tickets directly with us here or at Hullsta Gård.
345:- (fika ingår)
18.30–21.00 23 maj 2019
Hullsta Gård, Sollefteå