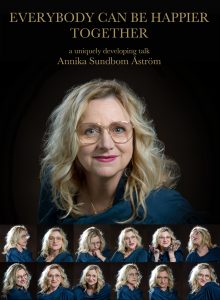 This year's most loving, developing and unique talk about how we create community.
–"There is almost no other time that it is as important as now that we take responsibly for creating community. This is what will allow us to save this planet."


Annika Sundbom Åström, Leadership Developer & CEO
If Swedish medical doctor Hans Rosling in his work with global statistics enlightened us about how far we have come in our human development, Swedish Leadership Developer Annika Sundbom Åström takes the next step and develops us in our convictions so that we can create more community and effectively cooperate for long-term, global development.
With both contagious playfulness and deep emotional seriousness, Sundbom Åström shows us how we can turn our conflicts into closeness or create even deeper community, with ourselves and each other.
Sundbom Åström has during her fifteen years as a leadership developer worked with hundreds of leaders within the private and public sectors nationally and internationally, helping all from parents to diplomats own their own convictions and consciously and responsibly create new realities for themselves and their contexts for long-term community, development and growth.
No talk is the other alike and each one deepens the community.
Businesses, organisations, stages and others are welcome booking one or several talks during 2019.
Time: 2–2:30 h (incl. a 30 minute break)
Audience: 20–80 people in room with mobile seats or in theatre setup
Technique: 2 wireless head microphones, 1 projector
Contact Mathilda Lindgren for information and booking, +46 70-4788603 mathilda.lindgren@humandignity.se