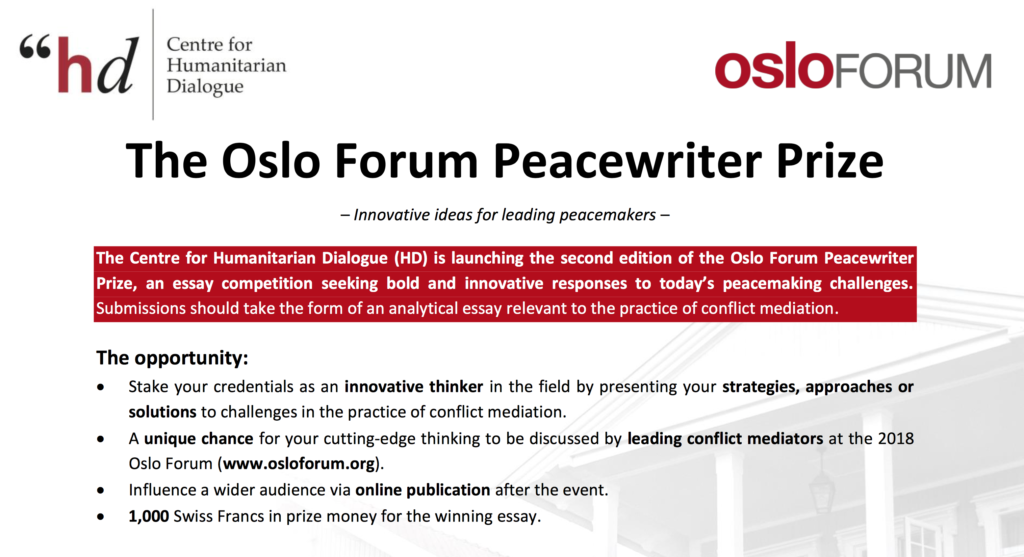 We've started the year by writing to the leading international mediators of today in The Oslo Forum Peacewriter Prize essay competition.
In our contribution we develop what we term the peace leadership (fredsledarskapet) and its main components, which we see will make international mediation more relevant, effective and sustainable in light of the many challenges of today. In the essay we answer the question: "How can international mediation become a relevant, effective and sustainable response to the many and complex armed conflicts and uproars of today?"
The organisation behind the initiative, Centre for Humanitarian Dialogue, is with this competition bravely and inspiringly inviting innovative ideas from thinkers across the world for the second year in a row.
The Oslo Forum is a highly regarded international network of armed conflict mediation practitioners that brings together mediators in informal and discreet retreats to allow them to share their experiences, identify challenges and reflect on mediation practice.
If our contribution is chosen as the most innovative, bold and useful one among the likely many contributions, we will be invited to present our solution to the Oslo Forum members at their next gathering, and through this make way for a new kind of peace leadership of the future.