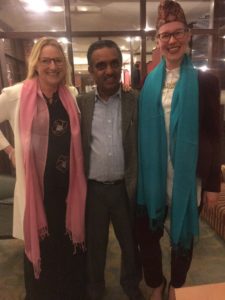 We just visited Kathmandu, Nepal, in relation to our collaboration on leadership development of local leaders together with the Nepali NGO Pro Public. It was our first, but definitely not last time.
The visit was incredibly informative and offered a great start to our collaboration with many fruitful meetings, a short workshop session with Pro Public and important interactions with some of the local leaders of Kathmandu, such as inspiring Vice Mayor Hariprabha Khadgi and other peacemakers, researchers and sustainable change makers.
We want to extend a very warm and grateful thank you to our hosts at Pro Public, especially its Executive Chair Prakash Mani Sharma who first invited us to collaborate, and also his closest colleagues Babu Ram Poudel and Mamta Shah and everyone else!
Below are some pictures from our trip. Please visit the websites of the organisations we interacted with during our visit to learn more about their interesting work.
Pro Public http://propublic.org
Kathmandu Metropolitan City, Nepal http://www.kathmandu.gov.np/en
Center for Social Change http://socialchange.org.np
SAPPROS http://sappros.org.np